The Kay Electric Community Foundation Board met in July and October to review the grant applications submitted for the third and fourth quarter of 2016.  Grants totaling $13,220 for these two quarters have been awarded to nine recipients.  KECF has awarded $26,876 in grants in 2016.
Most Kay Electric Cooperative members participate in K-UP, in which electric bills are rounded up to the nearest dollar.  The amount rounded up can be as little as one cent and is never more than 99 cents a month.  On average, each participating member contributes around $6 a year.
The funds are pooled and administered by the KECF Boards of Directors, which meets quarterly to consider grant applications.  The board consists of President Jared Grell, Vice-President Barbara Regier, Secretary/Treasurer Candy Oller, Director Sue Streller, and Director Rose Mary Hoemann.  There are also three non-voting advisory board members: KEC's CEO Tim Rodriguez, COO JD Soulek, and Administrative Assistant Cyndi Mitchell.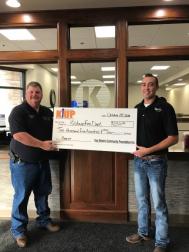 The third and fourth quarter grants for 2016 include:  
Billings Wheatheart Nutrition Project – Will use the $2,500 KECF grant funds to purchase a new steam table and top.
Blackwell Quarterback Club – Will use the $1,000 KECF grant funds to remodel the press box at the Blackwell High School Football field.
Edwin Fair Community Mental Health Center – The $1,000 KECF grant will be used for a Therapy Garden.
Blackwell High School Colorguard – Will use the $480 grant to purchase new show flags and new Maroon Spirit Flags.
Blackwell Youth Football League – Will use the $1,500 KECF grant funds to purchase new equipment.
The Billings Historical Society – Will use the $2,500 KECF grant to help repair the museum floor.
Blackwell Youth Center – Will use the $150 KECF grant to help replace equipment.
Kildare Fire Department – Will use the $2,500 KECF grant funds to purchase seven aluminum air cylinders.
Braman Volunteer Fire Department – Will use the $1,590 KECF grant to purchase a saw with extractor blade.
Foundation grants will be awarded primarily to the following projects and organizations: Programs, projects and organizations that are important components of a community's overall quality of life, with emphasis on public safety, health care, senior citizens affiliated organization and projects, self-sufficiency, and basic human needs.  Educational, youth programs and volunteer fire departments will also be considered for grants.  All applicants need to reside in KEC's