KAY ELECTRIC COMMUNITY FOUNDATION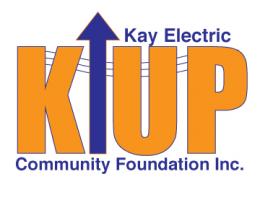 At Kay Electric Cooperative, we love our communities and believe in the power of working together to make good things happen.  Concern for Community is Cooperative Principle number seven and states, "While focusing on member needs, cooperatives work for the sustainable development of their communities through policies accepted by their members."
This principle is in full swing!  North central Oklahoma organizations and community leaders can call upon KEC members to lend a hand.  The Kay Electric Community Foundation is primarily funded by KEC's K-UP program.  K-UP allows KEC members, if they so choose, to have their monthly bill rounded up to the nearest dollar and the funds will then be dispersed to the Foundation.  These contributions will be used for charitable and educational purposes in north central Oklahoma – KEC's service territory and all the communities within. 
The KEC Board of Directors appointed five KEC members to the foundation board.  These five members are responsible for the organizational practices and establishing policy for the Foundation. Future board members will come from KEC's membership.  The Foundation Board meets quarterly to review applications and award grants to the chosen applicants.
Foundation grants are awarded primarily to the following projects and organizations: Programs, projects and organizations that are important components of a community's overall quality of life, with emphasis on health care, senior citizens affiliated organization and projects, self-sufficiency, and basic human needs.  Educational, youth programs and volunteer fire departments are also considered for grants.
To apply, applications can be picked up at KEC Headquarters in Blackwell, or you can click on the application and guidlines link to the right.  For more information or questions about the application process, deadline or program please contact Cyndi Mitchell at 1-580-363-1260.
All funds are kept separate from the cooperative and Foundation contributions are tax-deductible.  Applications are handled with the utmost confidence and respect.  Every penny will stay right here at home – Kay, Noble, Osage, Garfield and Grant counties.  KEC provides electrical services to more than 5,800 meters in north central Oklahoma.